Can you inherit a mid-life crisis?
This week I took my kids surfing for the first time. We were staying at Broulee on the NSW south coast and its safe beaches and long easy waves make it an ideal place to learn to surf…or at least that's what the brochure says. It turns out I had recently come into a brand new 9′ mini mal (more on that later) and it seemed like the perfect opportunity to get a lesson on how to use it. Better yet, I could do a group lesson, take the girls and triple the experience.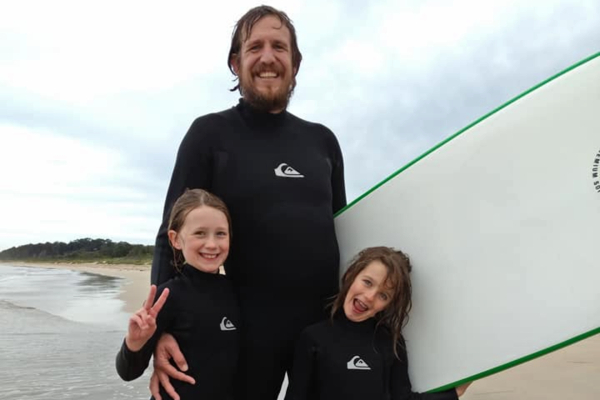 I organised a one and a half hour private lesson with Broulee Surf School. The instructor Shane was ace and he had as out and riding waves within 20 minutes. The girls, with their youthful flexibility, low centre of gravity and carefree attitude were complete naturals. I on the other hand, with my stiff joints, lanky frame and general lack of balance and coordination had quite a different experience. After an hour and a half of expert tuition I can't honestly say I 'surfed'.*
*It turns out that some people are born with a tight Achilles heel which in turn leads to a lack of flexibility in the ankle which in turn means it's difficult to plant your foot flat and maintain balance when you're lifting yourself up to a standing position on the board. Apparently when it comes to surfing my Achilles heel is my Achilles heel.
Now the fact that I didn't manage to surf, with the help of a professional instructor, on some of the easiest waves in Australia might come as a surprise to some. It would most likely be a surprise to all the close friends who recently contributed $800 to surf shop voucher (an incredibly generous 40th birthday present) that subsequently resulted in me owning a 9' mini mal. To be fair to them, this wasn't a whimsical midlife crisis type gift, it was in fact a thoughtful gesture to help replace my previous surfboard that I'd bought myself as a midlife crisis type gift a few years earlier. Unfortunately, this first surfboard suffered irreparable damage after being blown off the roof of Dennis (our campervan) whilst driving along the freeway at about 100km/h on the way back from our annual camping trip to Barwon Heads 12 months earlier.
So, this all begs the question, when was it exactly that I started pretending to myself that I was a surfer.
It's a convoluted story but it all started 30 odd years ago when my Dad took me surfing at Waikiki in Hawaii. I had been around the ocean my whole life but hiring long boards on the beach at Waikiki and riding the long rolling swells was my first memory of surfing.
Dad was a surfer when he was younger. I never saw the surfboards, except in one or two old photos, but what I remember quite distinctly was that he still had his old boardshorts from when he was in his 20's…and was endlessly proud of the fact that he still fitted in them in his 40's (having now experienced myself the negative impact that kids have on commitment to exercise and the positive impact they have on the consumption of comfort food and alcohol, I quite agree this is something my dad deserved to be proud of). I'm not sure if it was his own memories of surfing at Pondalowie Bay in his teens that resulted in him taking me surfing that day at Waikiki but regardless of the reason why, that day in Waikiki left a lasting impression. Not only did it result in an enduring and incredible memory, it also led me to mistakenly believe that I was a surfer.
I remember getting my very own surfboard not long after that. I wasn't so keen that I went out and bought a board myself, instead I got it as a birthday or Christmas present. It was second hand and had a couple of dings in it, but owning your own surfboard is a great way of maintaining the delusion that you're a surfer. I took the board out a couple of times, but I don't have a distinct memory of ever standing up on it. In fact, the most use it ever got was for skurfing (a cross between water skiing and surfing) being towed behind a little power boat that was kept at my parents' holiday house.
I used to justify to others, and myself, that the reason I didn't take it out surfing was that it was a little too small for me (I was 6'6" and the board was only 6'2"). The real reason was probably that I just sucked at surfing. And if I needed further proof this was always the case I now have it in a board that is a good two and half feet longer than me which I still can't seem to stand up on.
Now I'm not saying that my Dad sucked at surfing quite like I did. I'm fairly sure he was never afflicted with the same lack of coordination and flexibility as me. I'm only saying that my only memory of him surfing was one day at Waikiki Beach in Hawaii.
So, the other day as I stood out in the water (it was only waist deep) waiting for the right wave to fall off, I suddenly wondered whether I might have somehow inherited a midlife crisis from my Dad. Whether on that fateful day on Waikiki Beach 30 years ago he was just reliving his own youth. That taking me surfing was just his own midlife crisis playing out, and by inviting me to partake in the event, he inadvertently passed on the 'sham surfer' gene to me.
And so, as I stood there in the waist deep water, looking back towards the shore where my two girls catching wave after wave, having an incredible time and creating their own lasting memories, I wondered whether I may have just inadvertently passed onto the 'sham surfer' gene to them.
Update
This last week we've covered a lot of ground, but not all of it by road. After the surf lesson at Broulee we drove to Canberra via Batemans Bay. The next morning, we flew out of Canberra to Adelaide to catch up with my extended family for a surprise 70th birthday event for my dad.
From Adelaide the road trip continued with 25 family and friends boarding a bus and driving from Adelaide to the Southern Yorke Peninsula. We spent a couple of nights in Point Turton where my dad grew up and visited Pondalowie Bay where may grandfather fished during the summer, my dad spent his days surfing…and where my drone got taken out by an Albatross (all captured live and uploaded to YouTube).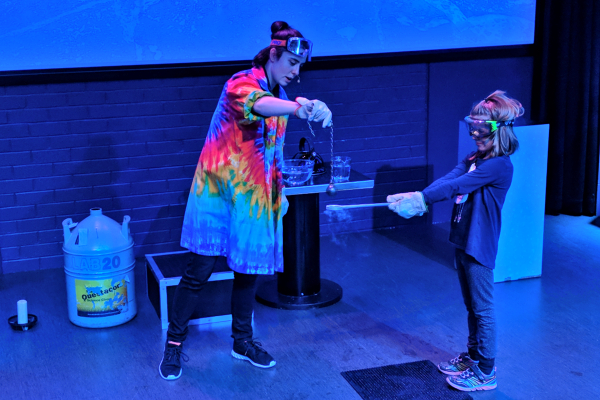 Monday we returned to Adelaide and flew back to Canberra. On Tuesday we spent almost the whole day at Canberra's incredible science museum, Questacon, before packing up and heading back to the coast on Wednesday. As I write this we are currently camped up at stunning Jervis Bay feeling especially grateful we are currently missing the terrible weather back in Melbourne!
Play 'Where's Waller'?
The third instalment of Where's Waller. I'm dressed up in a Where's Wally/Waldo/Wanda outfit…see if you can find me. Bonus points if you can name the location.