Escaping an octopus's cold embrace
One of the interesting challenges of life on the road is schooling Miah and Poppy. As we are only away for one term both their teachers have taken a fairly relaxed attitude to what this looks like and, like us, believe that what the experiential learning of the trip will far exceed what they might get from two and a half months of formal education.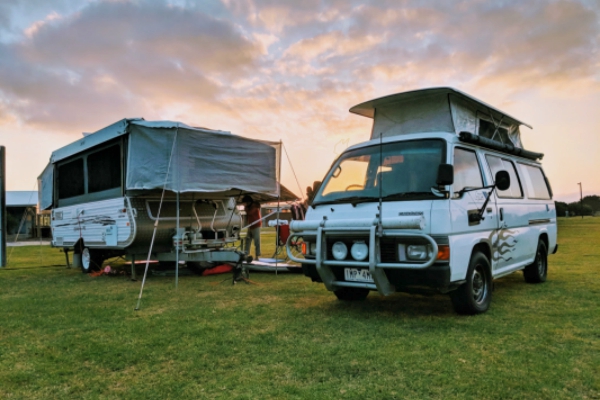 An example of this occurred the other night when we started discussing analogies. I don't remember exactly how the subject came up but we ended up playing a game of analogies around the table after dinner. The game involved one person saying an action, object or situation and then the next person had to find an analogy for it.
When explaining what an analogy was to Miah and Poppy I described it as "a comparison that aids in understanding". Often we use analogies to aid the understanding of others but it's interesting that in developing an analogy to help others, it also undoubtedly aids in improving our own understanding as well (This is why it is something that I get my Digital Champion's to do for every project they undertake. Not only can it help stakeholders understand what complex software makes possible, it also provides clarity to the champions as to exactly why they are doing the project).
The morning after the analogy game I started reflecting on various aspects of our trip so far and thinking of analogies to better describe them. So far, the one particular aspect of our trip that has really stuck with me, and perhaps warrants the further understanding that analogy brings, was how come it is so freakin' hard to get out of the driveway.
Although the planning for our Life Work Adventure had started six months previous, although we had done all the big things like organise transport and accommodation (our van and camper trailer), work arrangements, schooling and dog sitting, the day of our departure was spent frantically running around packing, cleaning and organising random 'stuff'. Our initial plan was to leave at 10:00am, this got pushed back to 1:00pm and we finally left at 2:30pm…without actually getting everything done.
When describing the challenge of starting the trip to others, I first suggested that the frustration was like trying to extract yourself from mud or quicksand but I have hence determined that it could more accurately be described as 'escaping an octopus's cold embrace'.
In our day-to-day lives there are all these things that hold us in place. There are big ones such as pets, children's schooling, jobs, houses and gardens to maintain and mortgages to repay as well as many smaller ones such as sports teams, extended family, friendship groups, tv shows we want to watch and the familiarity of our daily routine. In essence, each of these is a tentacle that embraces us, making us feel safe and providing a sense of belonging but also serving to trap us and ultimately hindering us from pursuing other opportunities, even the ones we truly value.
One of the most common comments I heard from friends and family before leaving was "I wish I could come with you" or "I wish I could do that". My response at the time was a somewhat flippant "Well of course you can, anyone can do it" but the reality is that we are often so tightly held by all those tentacles that extracting ourselves feels near on impossible. We may manage to sever one or two of these tentacles but in the time it takes to free ourselves from the rest, the old ones regrow and entrap us once again*.
And much like the octopus's prey, the risk is that eventually we stop fighting. The dreams we might have had of something more or something different slowly start to fade and we justify to ourselves that a cold embrace is better than no embrace at all…
…and once we have given in, the octopus strikes. It pierces our skin with its beak and injects us with a toxin that liquifies our internal organs before sucking our insides out. As our consciousness slowly slips away we realise that we are just feeding the beast that will ultimately prey on the ones we love.
OK, it's important to realise that like any model, the mental model of an analogy has it's limitations. Not every tentacle offers a cold embrace…and (perhaps) your insides won't be liquified. Some of the things that hold as back, such as friends and family, also provide important support networks and are integral to our sense of self. For me, the analogy helped clarify some of the tentacles that made it so hard to get out of the house and onto the road such as the holding power of material possessions, debt and work.
What was perhaps most interesting of all was that as soon as we were a couple of hours out of Melbourne these challenges had largely been forgotten. As soon as we were too far away to turn back and therefore too far away to do anything about them, the holding power of those things dissipated. The truth is, in three months time we will return home and our house, our possessions and our mortgage will still be there. Bar getting rid of all of them (like my inspirational friend Craig Skipsy) what I hope for is that next time leaving will be significantly easier. I expect that we will worry about these things a whole lot less…and perhaps more importantly, I hope we believe in our ability to escape the octopus's cold embrace a whole lot more.
*This is not the first time I have experienced this. I remember back in 2010 when I quit my corporate job with Rio Tinto and left Perth to move to Melbourne. When I told coworkers I'd quit the most common response was the question "Who are you going to work for?". The assumption was that if I'd quit then I must have already lined up a better role with one of Rio Tinto's competitors. When I told them I didn't have another job lined up and that in fact I'd quit because of conflict of values, the next thing I heard was "I wish I could do that". I realised in hindsight that so many of my coworkers and friends were trapped in a vicious cycle of working in jobs they didn't enjoy for companies they didn't like and then spending the money they earned on bigger houses, nicer cars or more lavish lifestyles to justify why they did these jobs in the first place. Unfortunately their high cost of living required them to continue to work in jobs they didn't enjoy for companies they didn't like…
Update
On Wednesday last week we left Mount Eliza and travelled to Seaspray, situated on 90 Mile Beach, just east of the Gippsland Lakes. Thursday was my first day of work on the road with a meeting in the morning and three coaching sessions in the afternoon. We stayed at Seaspray until Saturday before moving on to Lakes Entrance. On Monday we travelled to Mallacoota close to the Victoria – NSW border.
Where's Waller