Happy trials
After nearly three months we finally returned from our Life Work adventure a week or so back. It's taken me a little time to write about it because a) I'm still sifting through all the memories to find the hidden gems of meaning; and b) the day after we got back I took off to Perth for four days to help an old friend celebrate his 40th birthday.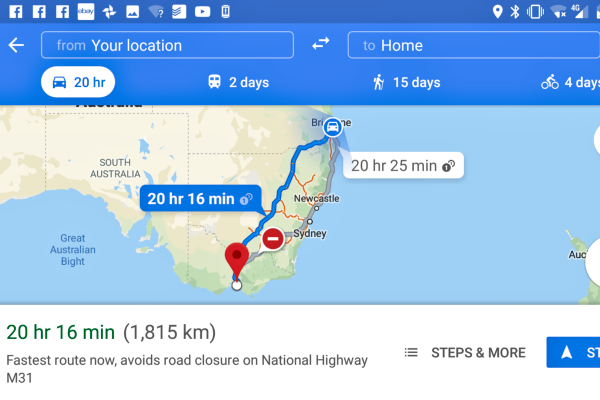 One phrase that has been with me over the whole journey is plastered across the title of this blog. I found the phrase left in the comments section of either a Facebook or LinkedIn post I wrote announcing our imminent departure a few months back. It was left there, amongst all the general platitudes and well wishing by a friend of mine Georgia Murch. Now there's a small chance that this was just a typo and that Georgia really meant to wish us "happy trails" but knowing Georgia I would suggest that it wasn't.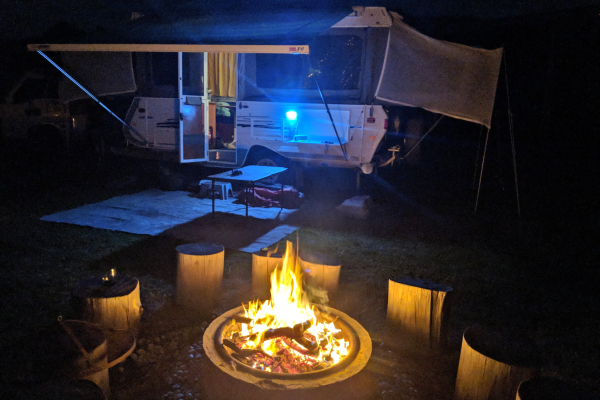 At the time I first read it I wasn't really sure how to take it. When you announce a big trip like this you kind of hope everyone will be joyous and perhaps just a little bit jealous and although I always appreciate a good pun it felt a little bit deflating as well. Weirdly though, I haven't been able to get the phrase out of my head for the last three months and looking back on it now I wonder if in fact it's the best, and simplest, way of summing up the whole experience.
Let me assure you there has been no shortage of happiness…but also no shortage of trials. Here is an excerpt from one of Naomi's Facebook posts highlighting just a few of the things we've had to endure during the trip (she assured me this was the abbreviated list).
No time together without kids
Sleep deprivation
Arguing in the car about our next destination
Kids fighting
Stopping the car in the middle of nowhere, getting out of the car and refusing to get back in the car
Mess, everywhere you look
No wardrobes
Stressful packing up and setting up days
Eating crap food at theme parks/on the road because there is no alternative
Drinking bad coffee because there is no alternative
Being pooed on by birds
Missing our dogs terribly and worrying about them after one ends up with a nasty injury, and they dig up our friend's tennis court and a nice big hole in our hallway carpet
Finding a pediatric dentist along the way to remove a splint after Miss 7 nearly knocks her front teeth out
Miss 7 then proceeds to chip a front tooth on the bath tap
Miss 7 goes to first aid after she flips out of a raft halfway down a waterslide called the BLACK HOLE!
Miss 7 gets bitten by a horse which is distressed by 300 tourists trying to pat it and her being caught in the middle
Miss 9 burns her hand while toasting marshmallows
Miss 9 wakes up in the night and proceeds to vomit in the campervan
Miss 9 sprains her ankle after doing 100 cartwheels
Being stranded on the Gold Coast while our campervan takes a trip to the mechanic for 4 days
The drone gets attacked by a sea bird and now lies at the bottom of the ocean
Leeches
Simon's flights being cancelled/delayed
Really bad showers
Did I mention the dirt and sand in our beds.
And yet when I read over this list again none of this comes with an ounce of regret. Not only have we had the privilege of enduring these trials as part of a once in a lifetime adventure, I also have no doubt that experiencing these challenges has made all of us better for it.*
*Along the way I've been reading Nassim Taleb's book Antifragile: Things That Gain From Disorder and you could easily look at the above list as a list of disorder, things that are worth mentioning because they are both uncommon and challenging. The academic side of me that I've been trying hard to suppress over the last few months of blog posting would then want to talk about how the ability of each of us (both individually and collectively) to absorb and recover from each of theses trials has made us and our relationships stronger…but let's not go into that.
So why does it take a trip like this to bring us all closer? Why couldn't we have created such an experience without leaving the comfort of home? There's no good reason for not doing it, but I can also tell you we didn't. Perhaps it's because that 'in the moment' conflict sucks. None of the above experiences were enjoyable at the time they occurred, their value is only when looked on in retrospect. Perhaps we just don't have the energy for it, that after long days slaving away in the salt mines we don't want to endure further trials…even if they are an opportunity for connection and growth.
Or perhaps we've just got really good at avoiding conflict in our day to day lives.
Not only do we live in more controlled environments that have eliminated many of conflicts causes, we have also become incredibly good at avoiding confrontation when challenges inevitably arise. We have smaller families living in bigger houses, we fill our lives with work and other activities, we go on resort holidays and lay on daybeds drinking cocktails out of coconuts…and we have a multitude of devices that require our constant attention. There are now so many other places we can go when the going gets tough that we can sometimes pretend that the challenges of human existence don't apply to us.
But when you shrink your entire living space to something smaller than your dining room it becomes almost impossible to avoid these types of challenges. And once you can no longer avoid them the best strategy is to embrace them. For us that meant family gatherings around the campfire where each of us shared how we were currently feeling. We asked questions of each other to better understand what was going on and we collectively discussed ways of making things better.*
*In fact, we had one of our little gatherings the day after we got back (this time around a candle on the dining table) and much of the conversation was focused on how we can bring all that was good about our adventure into our day to day lives. The first challenge was how to deal with the incredible amount of unnecessary space in our house. To this end Nomes and I have decided to move out of the upstairs master bedroom and into one of the kid's bedrooms so we can be closer to them. For their part they've agreed to continue to share a room for the foreseeable future (its relative luxury compared to sharing a bed in the camper trailer). In addition, the girls have also voluntarily committed to no screen time during the week in exchange for our weekly family movie (a ritual we started on the trip).
The very last questions I ask my digital champions at the end of a project, after everything's been implemented and the feedback has been gathered is "Knowing everything you know now, would you do it again?"
And if I was to look back on the last three months and answer that question the answer would be an irrevocable "Yes!" In fact, Nomes and I have already been discussing how we could do a trip like this on an annual basis.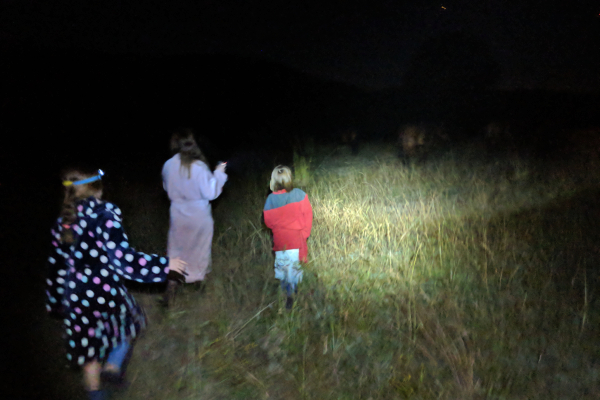 So, as much as describing the adventure as a Happy Trial may not sound as appealing as drinking cocktails out of coconuts, I think the accumulation of experiences and where the journey has taken us is infinitely more valuable than any tropical holiday I've had in the past. And just because I really do encourage you to consider how you might swing an adventure like this yourself, how you might flip the life and work parts of your life for an extended period and enjoy your own set of Happy Trials, I will leave you with something a little more positive – a list. My list. A reflection on some of the incredible experiences and happy times we have had together over the last few months (and I can also assure that this list is abbreviated as well).
The girls chasing waves in their best dresses and getting completely drenched
Nailing all the rollercoasters at Movie World
Rounding up a herd of horses at 10 o'clock at night in our dressing gowns
Spending a day building a straw bale house
Poppy catching her very first fish
Three generations of Wallers abseiling off a mountain at sunset
Playing story games around campfires
Reading books for no reason except pleasure
Driving my camper van Dennis for extended periods (being behind the wheel is one of my happy places)
Jervis Bay at Sunset with the beach to ourselves
Toasting marshmallows (even after Miss 9 burnt herself)
The girls showing me up in their very first surf lesson
Waterslides
Following the locals recommendation, camping next to an isolated beach and being the only people on it
Stews and other camp specialties
Seeing the girls learn to love reading
Our weekly family movie night
Taking a detour and exploring where my Dad grew up on the Southern Yorke Peninsula in SA
My camper van office
Having the complete support of my team throughout the trip
Seeing the whole team grow and develop in my absence
Having so much time where it was just our family
Having time to stop and reflect on where the world and where my work is heading next
Getting home and starting back at work with renewed excitement and vigour
The anticipation of getting to do it all again
Where's Waller
In the final installment of Where's Waller I've finally made it home. See if you can find me dressed in my Where's Wally/Waldo/Wanda outfit.