Slamming into the pot holes on the road less travelled
I'm pretty sure I don't necessarily believe in karma. If I did, I would have put down last week to a karmic episode, instead I'm now forced to find some other life lesson in what happened.
I had been really looking forward to last week, as much as it meant me leaving Dennis (the camper van) and Daisy (the camper trailer formally referred to as Goldie) for a few days it was going to be the most radical example of our Life Work Adventure. It involved me flying out from our trip to present at three events across three states within three days and then flying across the country to be back with the girls in time for a hot dinner on day four. But I was soon to find that sometimes things don't quite go as planned.*
*Oh yes, I fully appreciate the irony that my last post was about how great preparation makes planning less necessary…but more on that later.
The expectation was that we would park up the van Tuesday, somewhere around Nelson Bay in NSW, then on Wednesday morning the girls would deliver me to Newcastle Airport (30 minutes away) where I would then catch a flight to Melbourne. Once in Melbourne, I would be picked up by a driver at the airport and driven to a client's office to run a three hour workshop (on enabling technology adoption) before heading back into the Melbourne CBD for the night. Then on Thursday morning I would rise early and head to the Arts Centre to do a keynote on using technology to deliver more engaging tourism experiences before returning to the airport and continuing to Perth. I would run my final event, an all-day bootcamp for my Digital Champions Club, on Friday before an early Saturday morning flight back to Newcastle (via Melbourne) to catch up with the girls…and catch up on some sleep.
On paper it looked like everything would dovetail in nicely but almost immediately things started to unravel.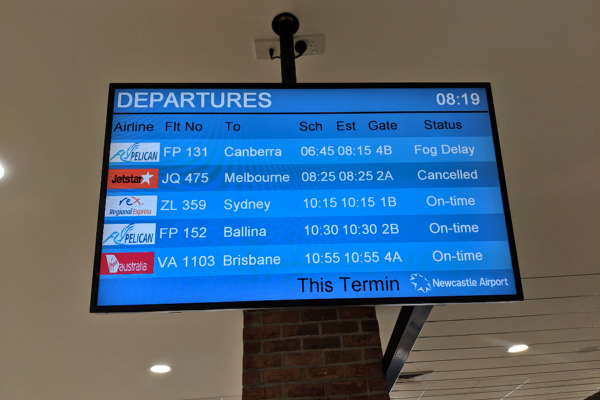 Firstly, my flight from Newcastle to Melbourne was cancelled with only a couple of hours' notice (due to a lack of crew) and as there was no other flights leaving Newcastle I then bought a second ticket (on a different airline) to Sydney and a third ticket (on a different airline again) to take me through to Melbourne. Unfortunately, my second flight out of Newcastle departed late (also as a result of crew issues) which meant that I only made it to Sydney in time to watch my connecting flight back out of the gate and take off down the runway. And even though the client was incredibly accommodating (with all the participants volunteering to stay back until 6pm) the multiple delays meant we eventually had to pull the pin and postpone the workshop until a later date.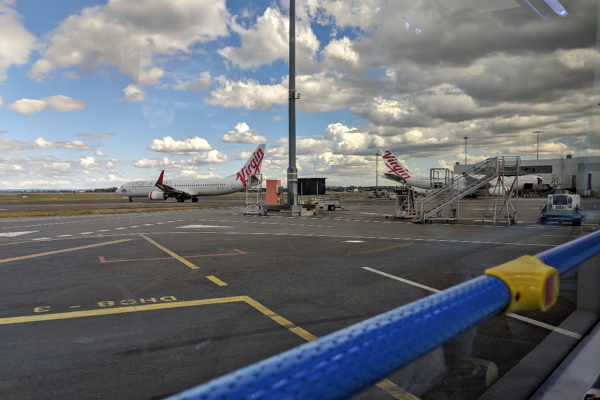 Thankfully the other events went far more smoothly, though Qantas put on a domestic leg of an international flight to Perth which has different security requirements that resulted in having a $100 bottle of my favourite wine…that I'd bought from the cellar door…in the Hunter Valley…as a gift for the guest speaker who was presenting at the Digital Champions Club the following day, confiscated at the airport.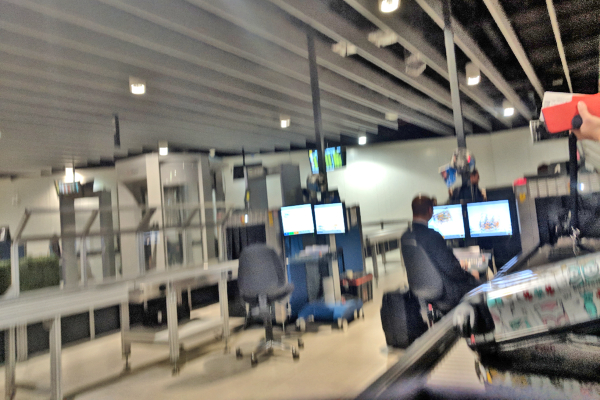 If I was a believer in karma or fate I'd probably put it down as some form of retribution for my previous posts on how well prepared I felt for just about any eventuality, or as a good friend of mine in Perth pointed out, perhaps it was the necessary punishment for being so bold as to think I could just go and live and work on the road for three months with my family.
But as I am not a believer in karma I've now being forced to come up with a different explanation as to why all these things went wrong. Here's what I've got so far.
If you plan on doing anything, something will generally go wrong
If you plan on doing something irregular or uncommon, then the chances of things going wrong escalates rapidly.
When something does go wrong, you will always wish you built in some additional capacity
If things are important ALWAYS build in some additional capacity
Every time something goes wrong it's an opportunity to learn
The biggest risk is we don't learn when we should, and we end up with the same problem at a later date
Oh, and the best thing is this. You don't necessarily need to wait for the 'something' to happen to you. The power of the internet and open sharing means that you can just as quickly and easily learn from other's mistakes…with far less downside.
So, if you're ever travelling with your family, working from a van and need to fly out from a regional airport for an important gig, half a day of spare capacity is not enough. Always fly the night before.*
*You might think that this is incredibly niche advice but I guarantee that someday in the future I'm going to get an email to a long defunct email address saying 'Oh my god Simon, your advice saved my life'.
Update
We left Lake Macquarie on Friday and headed to the Hunter Valley for an impromptu birthday lunch and a spot of wine tasting. We camped for a couple of nights before heading back towards the coast. We stayed a couple of nights at Anna Bay before heading to Nelson Bay…which was the start of the adventures described above.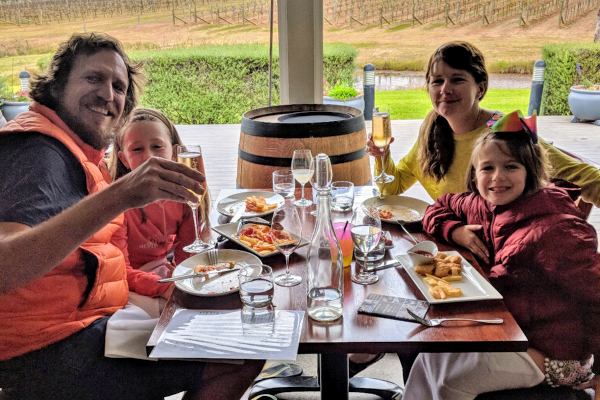 I stayed on in Perth a couple of extra days to catch up with friends and spent a magical day at Rotto on the Sunday before heading back towards the van and the girls on the Monday. After dealing with a couple of days of awkward rain in Nelson Bay (awkward because we haven't really had to deal with much of that since leaving Melbourne) we packed up and headed north again. We are currently at a farm stay just near South West Rocks and Byron Bay is now clearly in our sights.