The answer to poor short-term planning is good long-term preparation
We are now a little over a month into our three-month Life Work Adventure. One of the key motivators behind the trip for both Nomes and myself was to get a break from our tightly scheduled existence (fully acknowledging that neither Nomes nor I have schedules that are either tightly packed or terribly well planned). What this meant was that by the time we left home five weeks ago we had little idea of where we were going or what we wanted to do on the trip.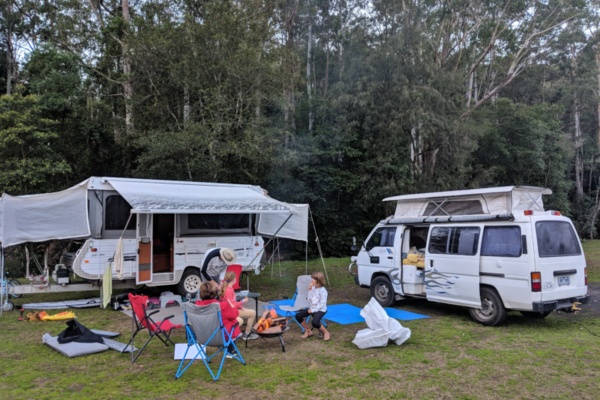 This approach, and its potential short comings, were on full display on Mother's Day when a good three hours after we were meant to check out from the caravan park we were staying in we decided to depart and head off to do some camping in Booderee National Park, which was in the exact opposite direction from which we were meant to be travelling in.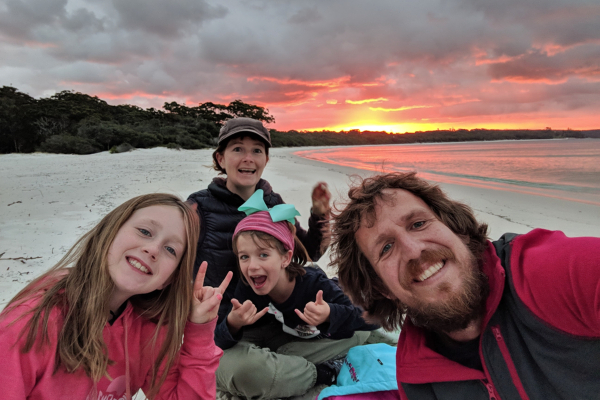 Although a little frustrating at the time I shouldn't really have been surprised at such lack of planning. In fact, right from the very inception of the trip any attempts I've made at planning have gone badly. Perhaps at some point feeling a need to get to 'somewhere' I tried instigating a pre-departure planning conversation with the girls. It went something like this
Me: So, girls (this includes Nomes), where do you want to go?
Nomes: I want to go to Byron Bay, and I want to go to Bribie [Island] to visit the cousins
Girls: Yeah, we want to go to Bribie!
Me: Anywhere else?
[insert three sets of big, beautiful eyes giving me blank stares]
Me: Does anyone want to go to the theme parks?
Girls: Yeah, we want to go to the theme parks…for a week!
Me: Great! Anywhere else?
[insert three sets of big, beautiful eyes giving me blank stares…again]
So, before we left our collective plan was, quite literally, travel up the east coast, get to Brisbie Island, and pass through Byron Bay and the theme parks on the way…oh and hopefully get back in time to wash the school uniforms before the start of third term.
Less planning means more preparation
So how do you prepare for a trip where you don't know where you're going or what you'll be doing?
Well assuming that you don't want to deal with the fallout of things going off the rails, the only possible way to prepare is to prepare for everything.
And I wasn't quite willing to let things go off the rails. One of my criteria for the 'working' part of the adventure was that my clients shouldn't have to pay for it. What I mean by this is that my clients should expect to receive the same level of quality, service and professionalism that they do when I'm working from my regular office.
So, to ensure that we could have all the flexibility we desired whilst also ensuring the client experience didn't suffer, I set out to get really well prepared for everything.
Red Teaming
To identify the possible risks and challenges of associated with three months working on the road I ran a red teaming exercise* with my staff well before Nomes and I committed to doing the trip. From this we determined a number of things I could do to better prepare.
*Red Teaming is a concept I picked up from an interview between Tim Ferriss and Marc Andreessen, founding partner of the venture capital firm Andreessen Horowitz. The concept originally stems from the military but how Marc presents it, red teaming provides the opportunity to challenge or 'torture test' an idea even if everyone already agrees with it. The 'red team' is an internal group (with the privilege of insider knowledge) tasked with trying to pick an idea apart. A good red teaming exercise might not necessarily discredit the whole idea, it might just identify small weaknesses that need to be addressed. You can read more about this in Tim's book Tools of Titans.
The two biggest potential challenges we identified was connectivity and availability. To address this, I ended up with two 4G mobile data plans on different networks to limit network availability, bandwidth and other connectivity risks and I also invested in a nine-metre-long squid pole that I could use as a mast to increase the range of my modem…but so far it hasn't been*.
*This is something I learnt from my dad when we were sailing up in the Whitsundays a year or so back. I had no reception at sea level when we were travelling around some of the islands but when he hoisted my mobile phone up to the top of the mast with the hotspot enabled I was able to run Skype calls with my team from the front deck of the boat.
In addition, I committed to being 'in range' and available two full days each week so that Sunny could pre-book meetings and coaching sessions as required. This meant checking into a caravan park with suitable 4G coverage on a Tuesday afternoon and not leaving until Friday morning (this would leave me a minimum of five days per week for the Life part of the adventure which could stay relatively unplanned).
To assist with this my team would identify a selection of suitable locations for me to stay each week. They would use a combination of Google searches (for suitable caravan parks in nice locations), customer reviews, maps of Telstra's and Optus's 4G coverage and data from services like OpenSignal (where people voluntarily collect and share information on the strength and speed of their mobile phone signal) to identify three or four options and then plot them on a co-authored Google Map which I could then access from my smart phone.
Other risks we identified and prepared for included inclement weather (for which I'm carrying multiple different microphone options), lack of power (I bought both a car charger for my laptop and an external battery pack that would allow me to run my laptop for up to four hours), last minute keynote/workshop bookings (the team also plotted out regional airports along the route) and personal accidents and emergencies (they also identified and plotted out emergency medical facilities as well).
This might sound like an excessive level of preparation but as I mentioned earlier, it was important for me that the client experience wasn't risked. And although it may seem excessive it is all relatively doable. From what I've experienced to date I would suggest the biggest risk with a trip such as this has nothing to do with technology, and everything to do with people.
Preparing others as well as yourself
The biggest limitation when it comes to taking off on the road for three months is the patterns of work and engagement we have created with others. If you were considering something similar the question to ask yourself is
'How will your customers and staff take it if you're physically unavailable for three months?'
If you currently feel your physical presence is required to either do the work yourself, or get other people to do the work for you then three months on the road might be a bad idea. The truth is people take a lot longer to change their processes. It's taken me a good three years to prepare the people around me for my lack of physical presence.
I started preparing members of my team the day they started working with me (for Sunny and Camille that was over three years ago). From day one they have never been accountable to metrics and I've never tracked the hours they work (even though I know that many of my peers do). In fact, for the last two years all my staff have had access to unlimited leave because I trust that they wouldn't abuse it. Instead, we are collectively accountable to our purpose our values and the quality of the work we do.
My team are also all remote, Sunny lives on the other side of Melbourne, Camille in Manila and Marc is a true digital nomad, travelling, living and working across the many islands of the Philippines.
And I started preparing my customers two and half years ago when I moved from Melbourne down to the Mornington Peninsula. I didn't want to have to commute backwards and forward to the city each day (and most of my clients are interstate anyway) so since then every customer has been directed towards engaging with me over Skype for small group meetings (Sunny positions it as the flexibility of a telephone call but with the engagement of a physical meeting). For members of my Digital Champions program they have only ever known Skype based coaching and if anything, it sets an example to them about what they could be doing with their own clients.
This is not to say you can't take off for three months without all this preparation. Many people quit their job, take long service leave (or some other form of sabbatical) and take off on journeys such as this. But this option requires that work is put on hold whilst you do some extended living. The limitation of this is that eventually the life bit will end, and you will need to go back to work. If instead you want to find ways of better integrating your work with your life, well then…you better start preparing.
Update
We finally got our first few days of rain just after my last update. We were holed up in Jervis Bay for a few days but managed to escape down to the incredible Booderee National Park for a couple of days of free camping. On Tuesday we headed to Sydney where we met up with my parents and checked into a hotel for the night (I was running a workshop the next morning and the client was paying).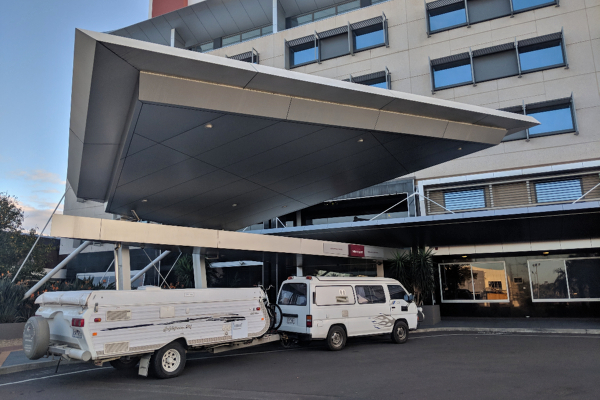 After the workshop on Wednesday afternoon we headed to Umina Beach on the north side of the Hawksbury River with my parents in tow. After doing some coaching sessions on Thursday and squeezing in a game of golf on Friday we got back on the road again and headed to Glenworth Valley for a couple of days camping, horse riding and abseiling.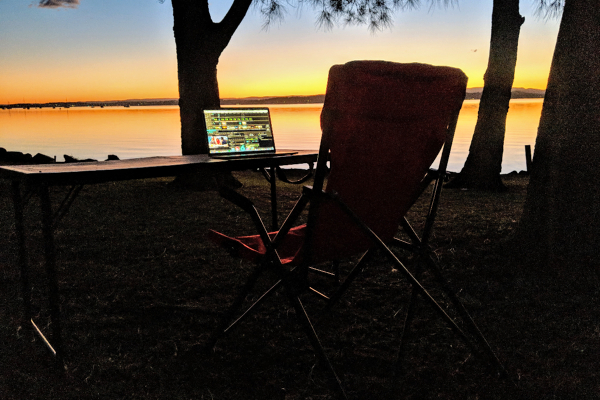 Monday, we said goodbye to my parents (who headed home to Perth via Sydney) and moved north again to our current location at Lake Macquarie. This week I've had a chunk of work to get done in preparation for a couple of workshops and a keynote I'm flying out for next week. A few days in one place has also given the girls a chance to get the van sorted out and restocked before we head off again tomorrow.