What to do when a bird poos on your head during a business meeting
On Friday last week I had an early morning coaching session scheduled with a new member of the Digital Champions Club. Most of my meetings and coaching sessions are conducted over teleconference…which is rather convenient given that I'm currently working from a camper van travelling up the east coast of Australia.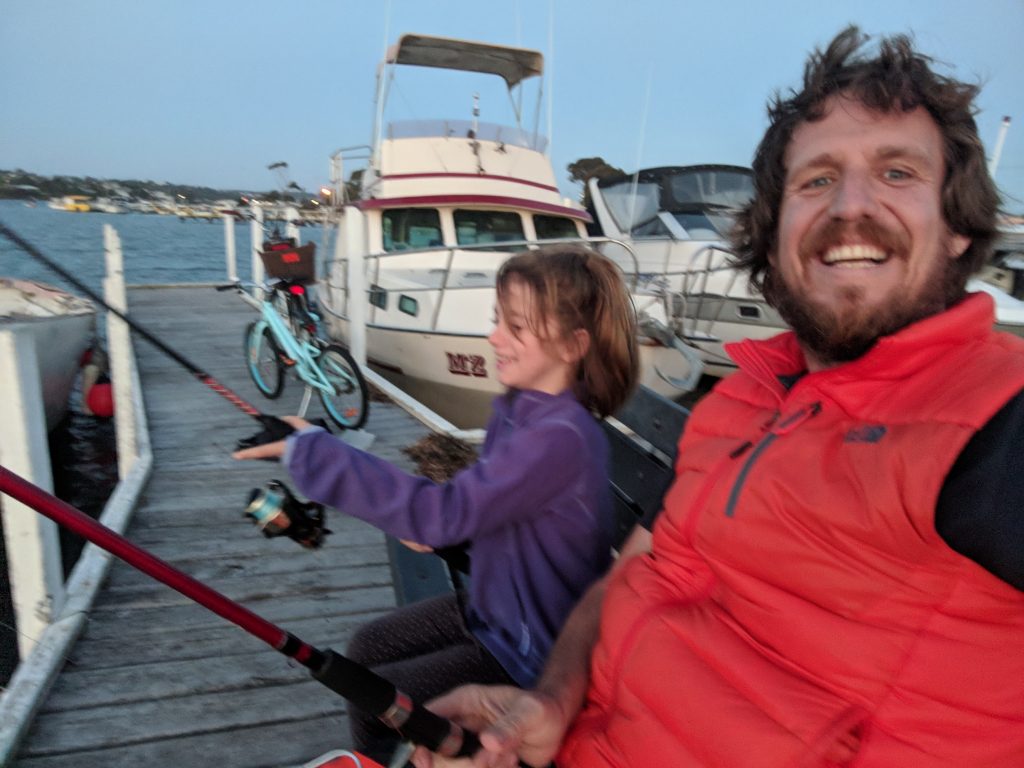 Whenever I have a meeting there are certain things I do to ensure the quality of the experience*. The first thing I do is find a suitable distraction free environment to work from. The second thing is to run a speed test to ensure whatever network I'm using has suitable bandwidth for teleconferencing. The third thing is I setup an external webcam mounted on a tripod rather than the built-in webcam on my laptop (this provides the ability to better position the camera and avoids unnecessary camera movement that occurs when you invariably move your laptop around).
*Part of my commitment before leaving on my trip was that my clients shouldn't be paying for it. What this means is that my clients need to receive at least as good an experience as they would get if I was working from my office at home.
Finding a suitable location means putting some distance between the 'camp' and my 'office' when I'm working to avoid the inevitable distractions and interruptions that come with a young family. Normally this means driving our camper van Dennis a short distance away, preferably with a nice outlook over the beach, popping the roof, setting up my laptop on the desk and working from there.
But on this particular day I decided to take a different approach. It was still too early for most of the caravan park kids to be out on their bike, and the park we were staying in was fairly empty, so I thought I'd just find a quiet place within the park and work from there.
I found this lovely spot, on a picnic table, underneath a beautiful big tree, and I set up my office there. I got out my webcam and positioned this beautiful shot of trees and lawn in the background, connected to my hotspot and connected into the teleconference.
As soon as my video feed came up the other participants immediately commented on the incredible location. I told them a little about where I was working from and casually dropped one of the lines I like to use 'It's my job to live the dream and then show others how to do it'. Now perhaps it was karma or perhaps it was just bad planning but about 10 minutes into the call a couple of rosellas took up residence in the tree above me. The first issue was their incessant squawking meant the other participants could hardly hear a word I said, the second issue was that before flying off to find their next victim they shat all over my laptop…and myself.
Now I like to consider myself a professional and I wasn't going to let a bit of bird poo impact the 'client experience'. Apart from a quick glance to assess the extent of the damage I barely blinked an eye, I focused back in on the discussion and continued through another 40 minutes of the coaching session with bird poo in my hair, on my shirt and running down my left leg.
In fact, it turns out the only person who was more professional than me was the client. Obviously having seen the bird poo spontaneously appear on the left sleeve of my shirt he managed to wait right until the end of the coaching session to ask whether a bird had pooed on me (In hindsight I also imagine that if I didn't insist on such a high-quality webcam the bird poo may not have been quite so obvious).
So, what does all this mean? Was it just karma for me being a smug bastard or is there something else for us to learn? I'm a huge fan of finding something to take away from any situation and for me the lesson was this:
Always think about the audio.
At the end of the day it wasn't the bird poo that has the most impact on the client experience, it was the incessant squawking of the rosellas and after that it was the wind gusts that the microphone kept picking up. As my AV guru and all-around legend Dave Dixon has said to me many times before, people will put up with bad quality video, but they won't put up with bad quality audio. Bad quality audio makes people's brains work much harder, eventually they fatigue, and then they give up.
So next time you're on a teleconference with a client from a caravan park somewhere on the south coast of NSW, or anywhere else for that matter, even your desk or your office boardroom, make sure your think about the aural experience you are providing other participants…and if a bird shits on you, put it down as a stroke of good luck.
Update
On Wednesday we left Mallacoota and crossed the border into New South Wales. Our first stop was the beautiful seaside hamlet of Pambula, nestled between the towns of Marimbula to the north and Eden to the south. Thursday was a work day and most of it was spent in my mobile office, parked up at the Pambula Surf Club.
On Friday, after the 'poo incident' we went and explored the Killer Whale Museum in Eden (if you ever want to hear an incredible and true story of cooperation between humans and animals I highly recommend you reading up on the story of Old Tom and the Whalers of Two Folds Bay).
On Saturday we left Pambula and headed north for our first free camping experience of the trip at Brou Lake Campground. This incredible campsite was recommended to us one of the Eden locals we met. It is located in Eurobodella National Park and sits right between a beautiful lake and pristine, unpopulated beach.
We reluctantly left Brou Lake on Tuesday (after our water and food started running out) and headed north once again to Broulee, another small seaside hamlet located just south of Batemans Bay.
Where's Waller
In this second installment of Where's Waller see if you can find where I'm hiding in my not very inconspicuous Where's Wally/Waldo/Wanda outfit. And can you guess where I am?